The People Behind Beastly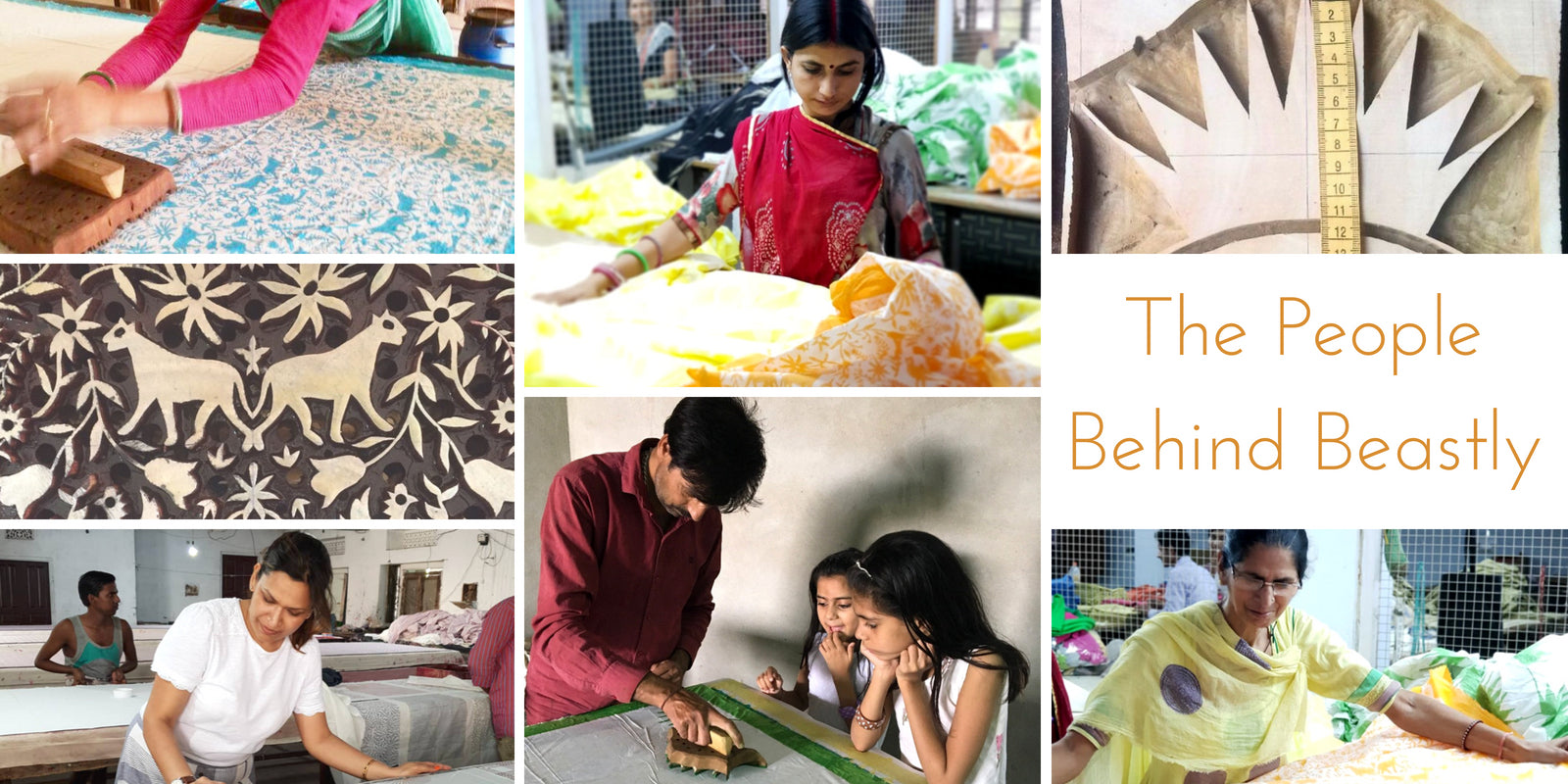 Simply put, Beastly Threads exists thanks to the extraordinary talent and effort of many people, several of whom live in Jaipur, India. A few years ago, I started working with Sonia Jain who helps brands like Beastly get their products developed by the amazing artisans in India. Along with being a wonderful person, Sonia's help in coordinating the block-printing and sewing of the latest Beastly sarongs was invaluable. And wow are those sarongs beautiful! I recently asked Sonia to give us a better sense of the block-printing community in India. Enjoy!
Torrey: Block-printing has been around for thousands of years. Why do you think this tradition has stood the test of time and remains so fresh and current in today's style?
Sonia: Block printing is an excellent way to produce something that is truly handmade and can be very easily replicated. It is manually produced and not factory made where thousands of meters are printed in a day, all exactly the same way. The beauty of this art is that no two printed pieces will ever be the same because of the simple fact that they are done by hand.
It is also one of the easiest printing methods to get started with. The materials needed to start are relatively inexpensive and the printing does not require a lot of equipment. 
Block printing is also popular because of the bold and simple designs that can be created with an enormous number of colors and patterns.
Torrey: What part of your job do you love the most?
Sonia: The direct positive impact on artisans is the best part of my job. Giving them exposure to international work and empowering them are the things that give me real happiness. 
Besides this, on the most basic level, I just enjoy talking with people. My job provides me an opportunity to put that basic urge to use for a purpose. I am a very social person, and love to listen and talk with others, either with clients from different cultures around the world or artisans who are artists but not businesspeople.
Torrey: What is the most challenging aspect of bringing such textiles to life?
Sonia: My job requires communicating the designs to the artisans, who are quite used to conventional Indian designs with leaves and flowers in bright colours. Foreign clients are looking to print more geometric and abstract designs and also print with more pastel colours. Creating an understanding between both parties is the most interesting and challenging part of my job and it comes with every new client I work with.
Torrey: Can you tell us about the women who are working on the Beastly sarongs?
Sonia: The artisans we work with are both men and women. The majority of women artisans come from the same printing background and are doing the work to help their families. Although few of them got the chance to go to school in their childhood, most of the women are determined for their kids to get a good education.
Torrey: If someone were to visit Jaipur and Bagru, where should they go? What are your 2-3 favorite spots?
Sonia: Jaipur is the capital of Rajasthan state and also called Pink City for its trademark building color. The most visited places are Jalmahal (water palace), Hawamahal, Amer fort, Nahargarh fort, and Albert hall. 
Visit the Market in the city centre in the evening and experience the color, the sights, and the smells. Bapu bazaar and Johri bazaar are the most famous ones.
Bagru is a small village located 35 kilometers from Jaipur. It is famous for traditional hand block printing like indigo and Dabu as well as bagru print. One can see the printing art and meet the artisans.

My favorite place is Jawahar kala Kendra, which is a multi-arts centre located in Jaipur. It was built by the Rajasthan government with the purpose of preserving Rajasthani arts and crafts.